It was December 14, 1955, and Estelle West was running out of options.
The 65-year-old widow anxiously wrung her hands as she sat alone in a San Francisco jail cell, awaiting her fate. She had been repeatedly ordered by police to give up her two-story abode on San Bruno Avenue so the city could make way for construction of the 101 freeway over Potrero Hill. Her property on the steep, rocky cliff would be razed, but that was the least of West's concerns. 
What she truly dreaded was the fact that she would have to give up her cherished pets: an abundance of goats that not only provided her primary means of income with their milk, but were also like family to her. 
Goats from City Grazing munch on the grassy outskirts of the Potrero Hill Community Garden in May 2021.
Courtesy of the San Francisco Recreation and Park Department
West did everything she could to prevent that from happening. 
She wasn't the only longtime resident of Potrero Hill forced to give up their property, but it was her refusal to give up the goats until she could find safe new living quarters for them that captured the public's attention. In the four years leading up to her arrest, West's face had been plastered all over the pages of local newspapers, including the Chronicle, the Examiner, and the now-defunct San Francisco Bulletin. Collectively, they touted her as the "Goat Lady of Potrero Hill," amusedly following her saga to preserve her home and protect her bleating companions.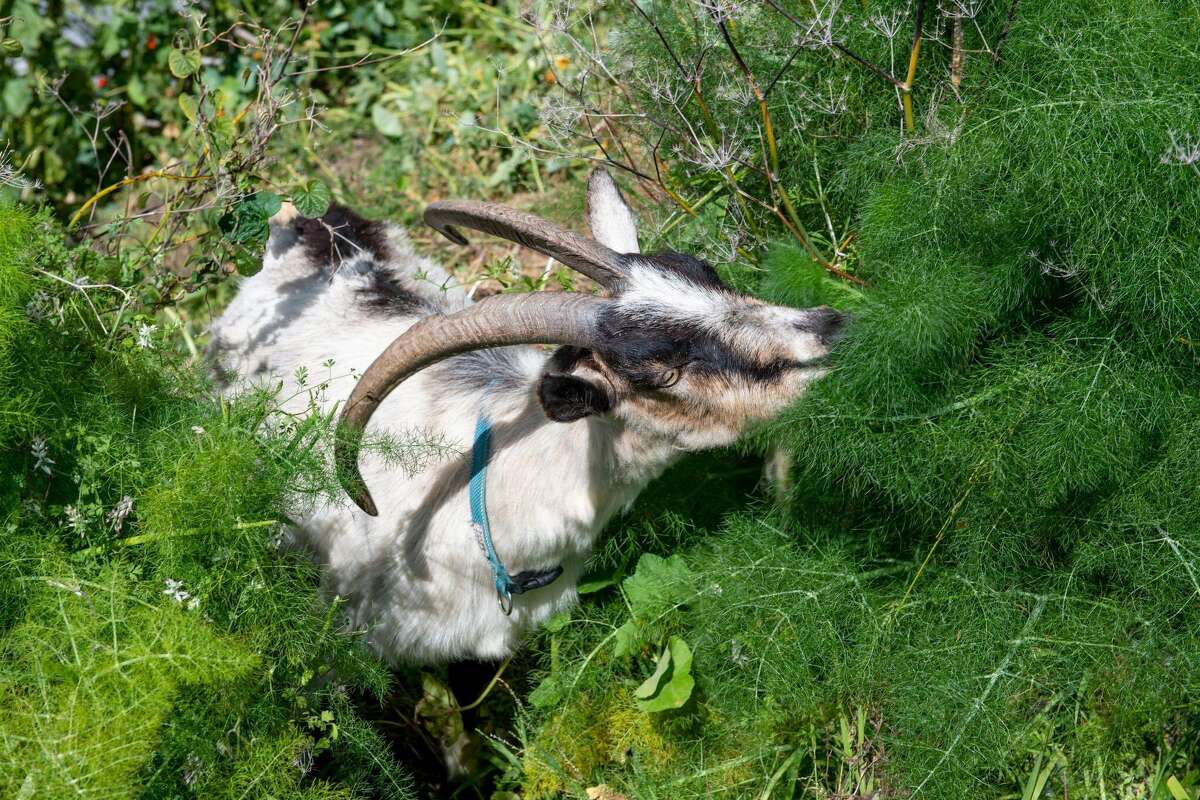 Goats from City Grazing munch on the grassy outskirts of the Potrero Hill Community Garden in May 2021.
Courtesy of the San Francisco Recreation and Park Department
To own a flock of goats in the neighborhood wasn't all that unusual at the time, according to Peter Linenthal, director of the Potrero Hill Archives Project. In the early 20th century, Potrero Hill was a rural, working-class neighborhood where residents tended to cows, chickens and goats living at their properties after they returned from their jobs downtown. 
West, however, owned a burgeoning flock of 18 goats, eight cats, and two parakeets. She adored the sprawling view her home on Potrero Hill had to offer, and felt at peace as she watched her flock nibble upon the grassy slope.
Predictably, her demise began with complaints from neighbors, who weren't quite as enthusiastic about West's hillside menagerie as she was. They frequently complained of the smell to anyone who would listen — their friends, the police, the city health department — in addition to lamenting the goats' inclination to munch on their prized flowerbeds. 
At the time, West was viewed by many as an obstacle in the path of progress, but Linenthal explained she and many other residents who had to sell their properties were bitter because they didn't feel they got what they deserved for the value of their homes. In 1951, when West was initially offered $3,950 for her residence — about $39,651 adjusted for inflation — she fed the writ of possession to one of her goats. Her reasoning was that she wasn't selling her home; rather, the state was taking it away from her. 
"Estelle's story is a sign of change in Potrero Hill, I think, from the natural hills to development. The value of property is still a big issue in San Francisco, and the fact that she was forced out and that this is still going on must be why her story resonates with so many people," said Linenthal. "That, and I think people are surprised it was over the goats back then."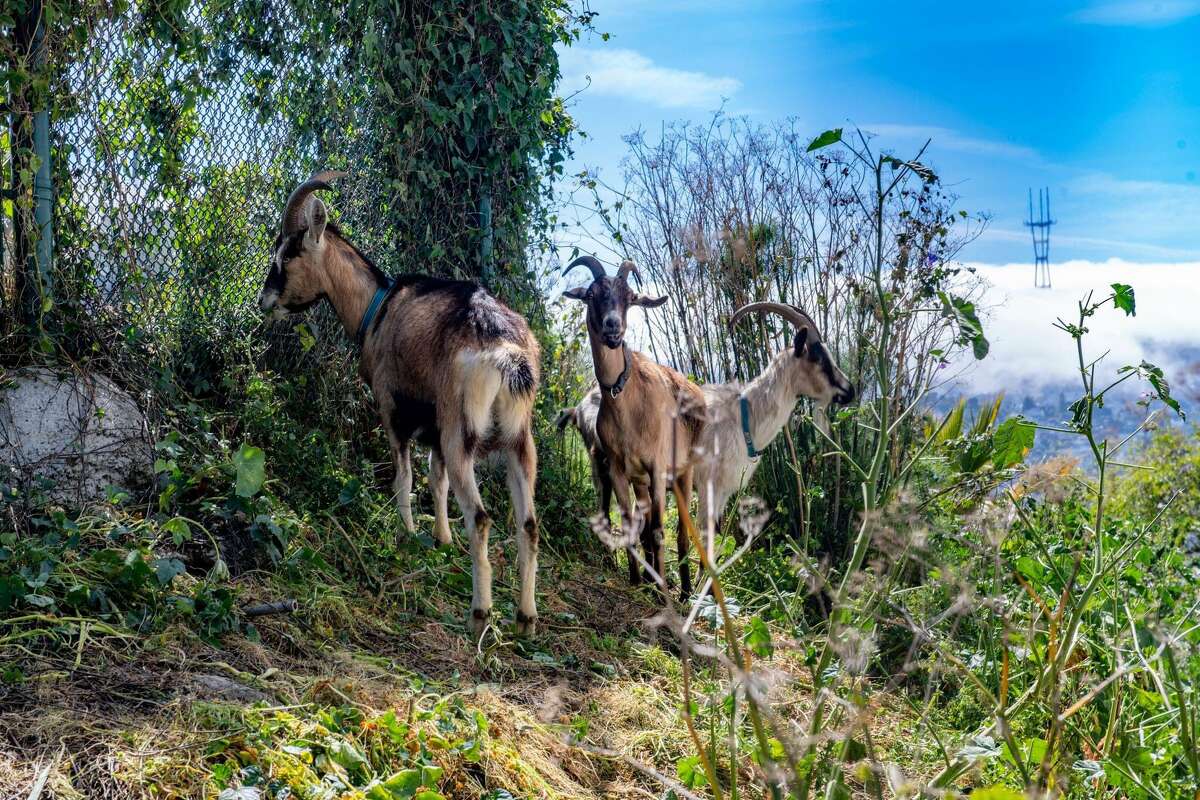 Goats from City Grazing munch on the grassy outskirts of the Potrero Hill Community Garden in May 2021.
Courtesy of the San Francisco Recreation and Park Department
Ultimately, West insisted that she and her animals were staying put. But after multiple demands from the city health department, she relented, agreeing to sell the majority of her flock — which proved to be a disaster.
That spring, the first prospective buyer arrived, offering West $150 for all 18 goats, but the purchase fell through when the customer was unable to catch the ornery animals. A few days later, another interested party showed up and began to load the goats into his truck, but when he offhandedly mentioned to West that he was a butcher, she refused to let them go. 
An unnamed Colma resident eventually purchased the majority of the flock, leaving West with Mamie and Elise — goats she couldn't bear to leave because they were pregnant, even though the date of her eviction was looming. A Mission District ballet teacher, Alberto Feliciano, agreed to purchase the pair to deliver to a friend living on a farm in Santa Clara County, but brought them back hours later, explaining that his friend was sick and that West would have to take them back.
Her refusal to abandon the remaining hoofed duo — which soon doubled when the newborns arrived — was what landed her in a San Francisco jail cell. West was arrested for keeping an unsanitary home and illegally maintaining more than two goats in a single household, and given the option to either stay there for 30 days or pay a $150 fine, which she claimed she could not afford. There she sat, desolate, until a woman burst through the front door of the facility, holding a copy of the newspaper in her hand.
It was Anita Frances Roddy-Eden, a former dancer at the El Rey Burlesque Theater in Oakland who introduced herself to police as the former wife of Manhattan socialite Tommy Manville. Outraged by West's arrest, she demanded that the police release her immediately.       
Police captain Mike McConnell simply shrugged and said that she could take West with her, but that she'd need to pay her $150 fine first. With a whisk of her mink coat, Roddy-Eden pulled out her purse, counted out the proper number of bills, and promptly left with West in tow, who sobbed and announced that it was the most wonderful thing to happen to her. 
"Ex-Stripper Rescues Pet-Lover from Jail," read the headline in the Chronicle the following morning. 
It was a rescue for the ages, but West's removal from her home was imminent. Days later, she was forced to leave, never to adopt any goats or live in Potrero Hill again. Her home was demolished. West moved to a new place on 16th Street in the Mission District, where she stayed until her death on May 19, 1984. She was 98 years old, and in her obituary was remembered for her younger years as a waitress, a ballroom dancing instructor, and a poet. Though she never met him, West was also discovered to be the cousin of James Butler Hickok, better known as legendary outlaw "Wild Bill."
But the "Goat Lady of Potrero Hill" may have been her most notorious title, and her legacy continues to live on in the neighborhood today.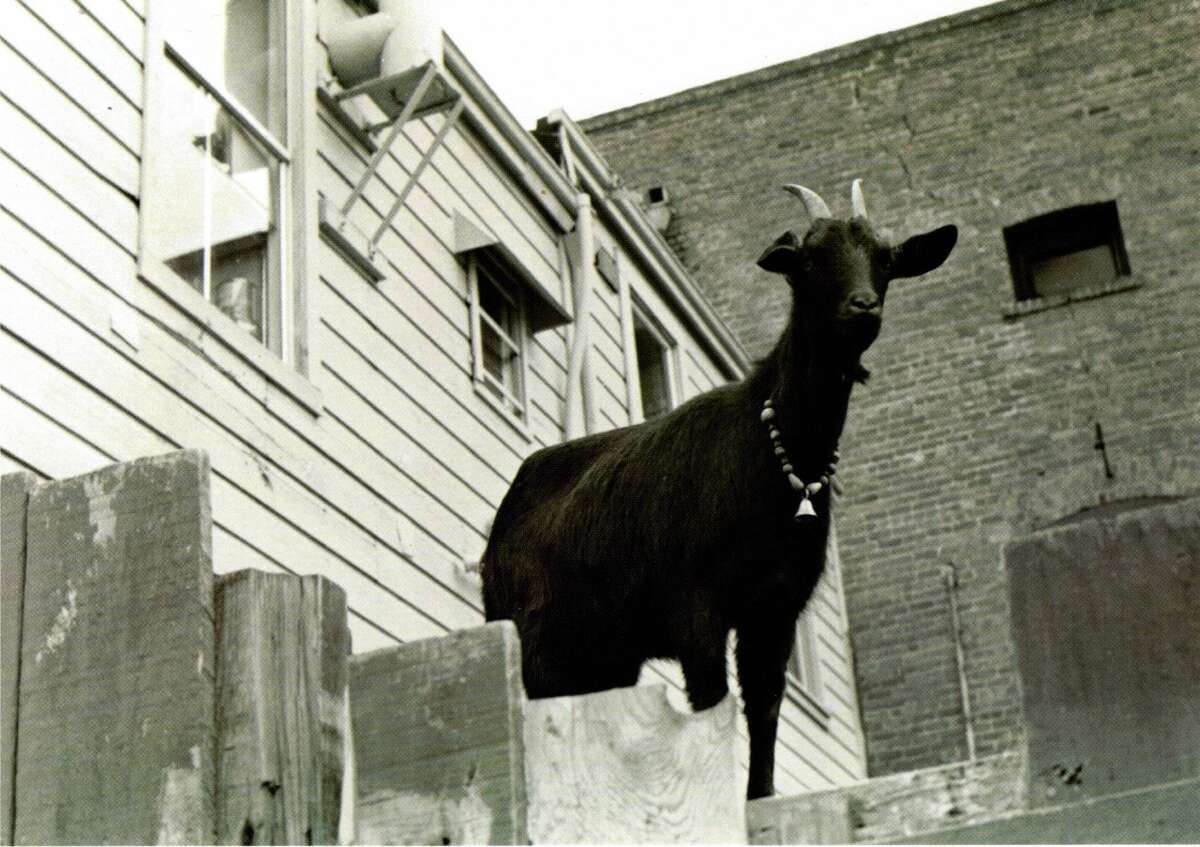 Goat Hilda de Anchovy of Goat Hill Pizza fame, photographed by the Potrero View in 1979.
Courtesy of Peter Linenthal/The Potrero Hill Archives Project
Perhaps the most visually prominent example of this is a 46-year-old pizzeria on the corner of Connecticut and 18th Streets. Goat Hill Pizza founder Philip De Andrade said it was the community's rural history and the story of West that inspired the name of his restaurant. After it opened in 1975, it seemed fitting that they have a pet goat living in the back lot of their establishment, who soon became a neighborhood mascot and a local legend: Goat Hilda de Anchovy. 
She and her eventual offspring, Bucky and Loretta, soon developed a cult status within San Francisco. Children begged their parents to visit the restaurant so they could feed the animals through the fence, and the goats' presence even captured the attention of Chronicle columnist Herb Caen. His article about the goats prompted a visit from the San Francisco Department of Public Health, which permitted Goat Hill Pizza to keep Hilda, Bucky and Loretta as long as they weren't interfering with food preparation — and that the restaurant wasn't a front for an unlicensed dairy.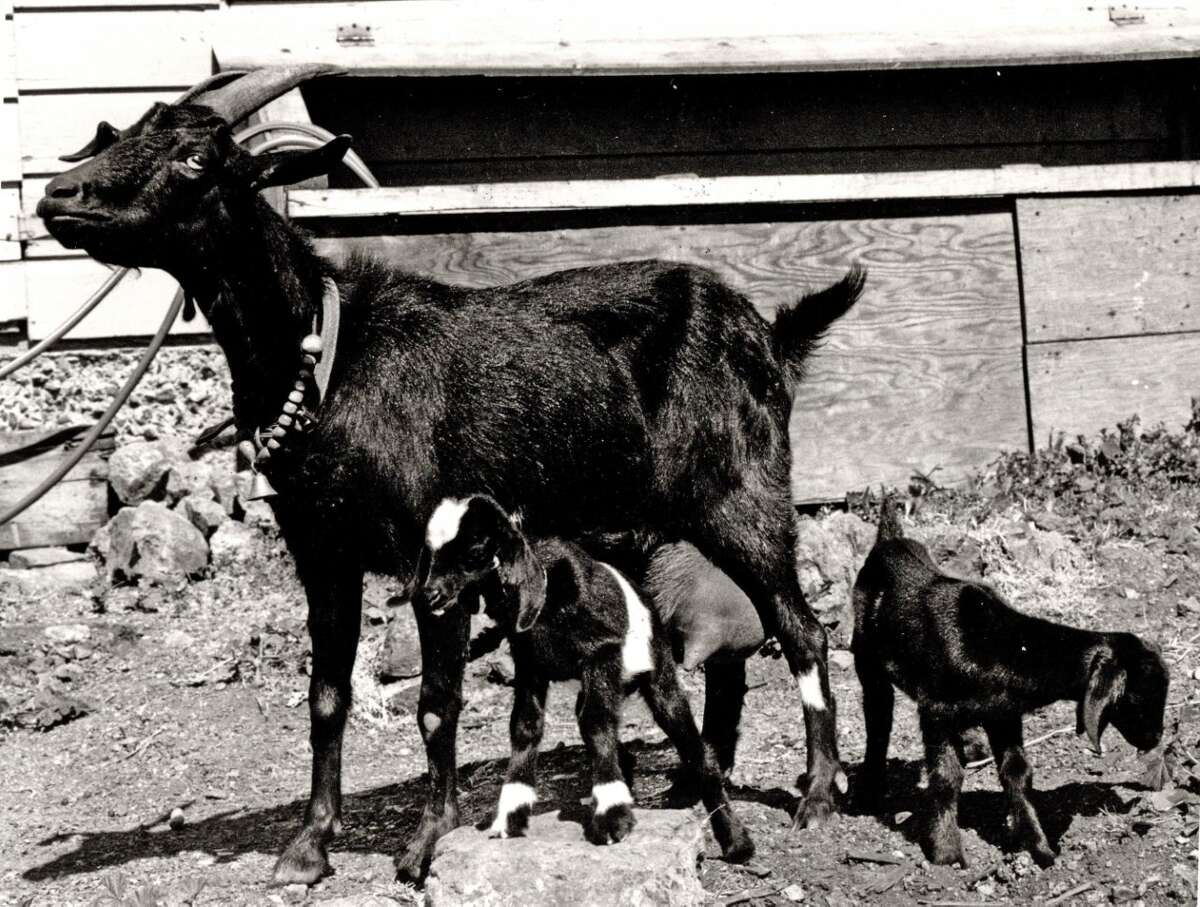 Goat Hilda and her kids Bucky and Loretta.
Courtesy of Peter Linenthal/The Potrero Hill Archives Project
Goat Hill Pizza's popularity skyrocketed in the 1980s, leading to its eventual expansion into the back lot where the goats had been living. This meant that the newly touted resident goats of Potrero Hill would have to find new homes once again, much to the public's dismay. In June 1984, dozens of members of the community marched down Arkansas Street as part of a protest to "Save the Goats," though De Andrade remembers the atmosphere as more of a celebratory one: a tribute to the full-time ambassadors of the neighborhood pizza parlor. 
To this day, Hilda's likeness is printed on every box of pizza delivered by the restaurant.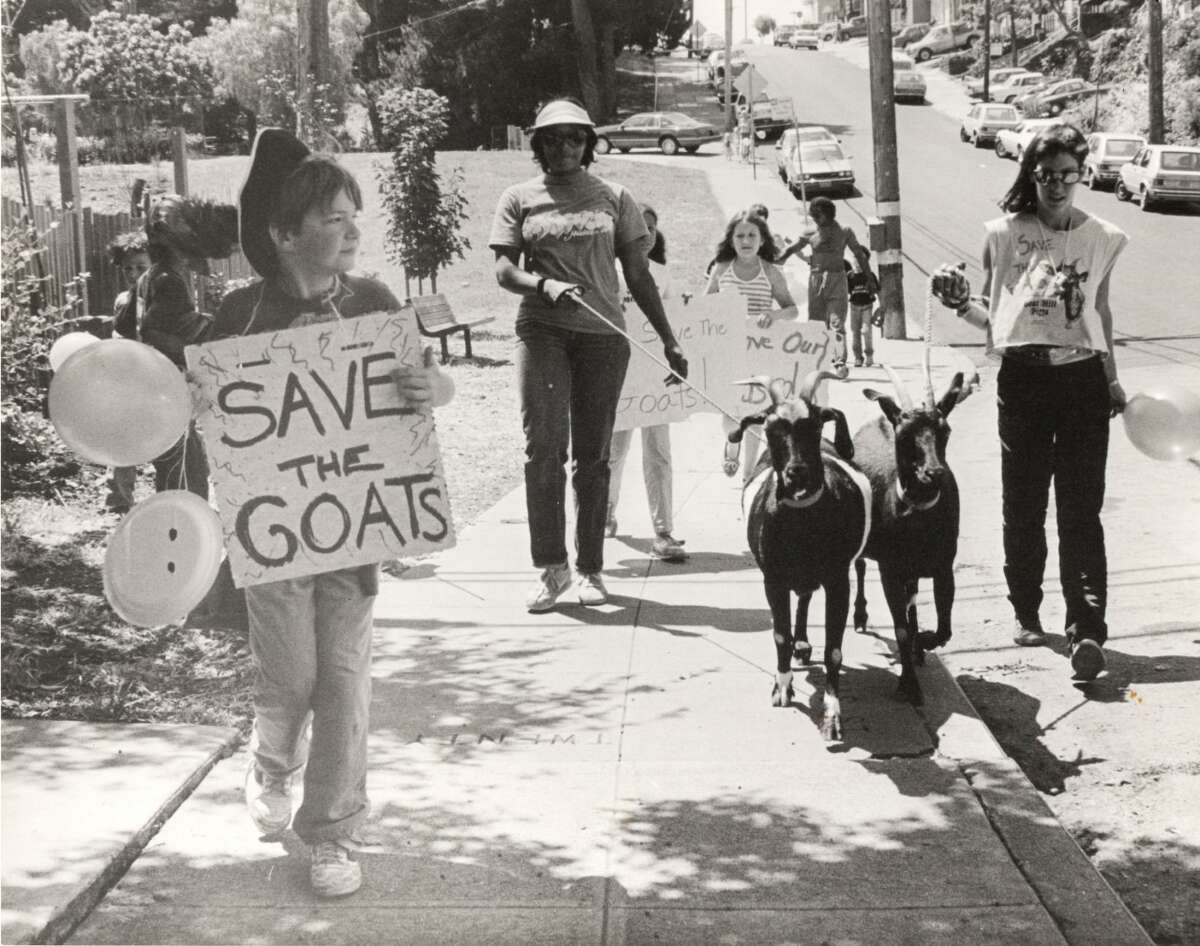 Potrero Hill residents Gail Wetmore and Loris Lipski lead a parade down Arkansas Street to protest the removal of Goat Hill Pizza's unofficial mascots in 1984. 
Courtesy of Peter Linenthal/The Potrero Hill Archives Project
Yet another San Francisco organization continues to preserve the legacy of Estelle West, even bringing goats to the same hillside where her herd once grazed years ago. 
Often mistaken for "the goat lady of San Francisco," Genevieve Church is the executive director of City Grazing. She's eager to rattle off random trivia about the animals: their rectangular-shaped pupils help protect them from predators. Their body temperature stays at a consistent 103 degrees Fahrenheit. They have an unusually higher metabolism than other animals. She also tells me they love cameras, and sometimes they love people more than they love other goats. 
"They have social cohorts within the larger group, they develop friendships, some break off from their families. They're a lot like people, and that's what fascinates me about them." 
Church has been at the helm of the Bayview nonprofit promoting sustainable lawn care since 2012. Facilitating her operation is a herd of nearly 100 goats who visit approximately 70 sites throughout the Bay Area each year, tromping through gardens and backyards as they munch on morning glory, fennel and other invasive plant species to foster the landscape and aid in fire prevention.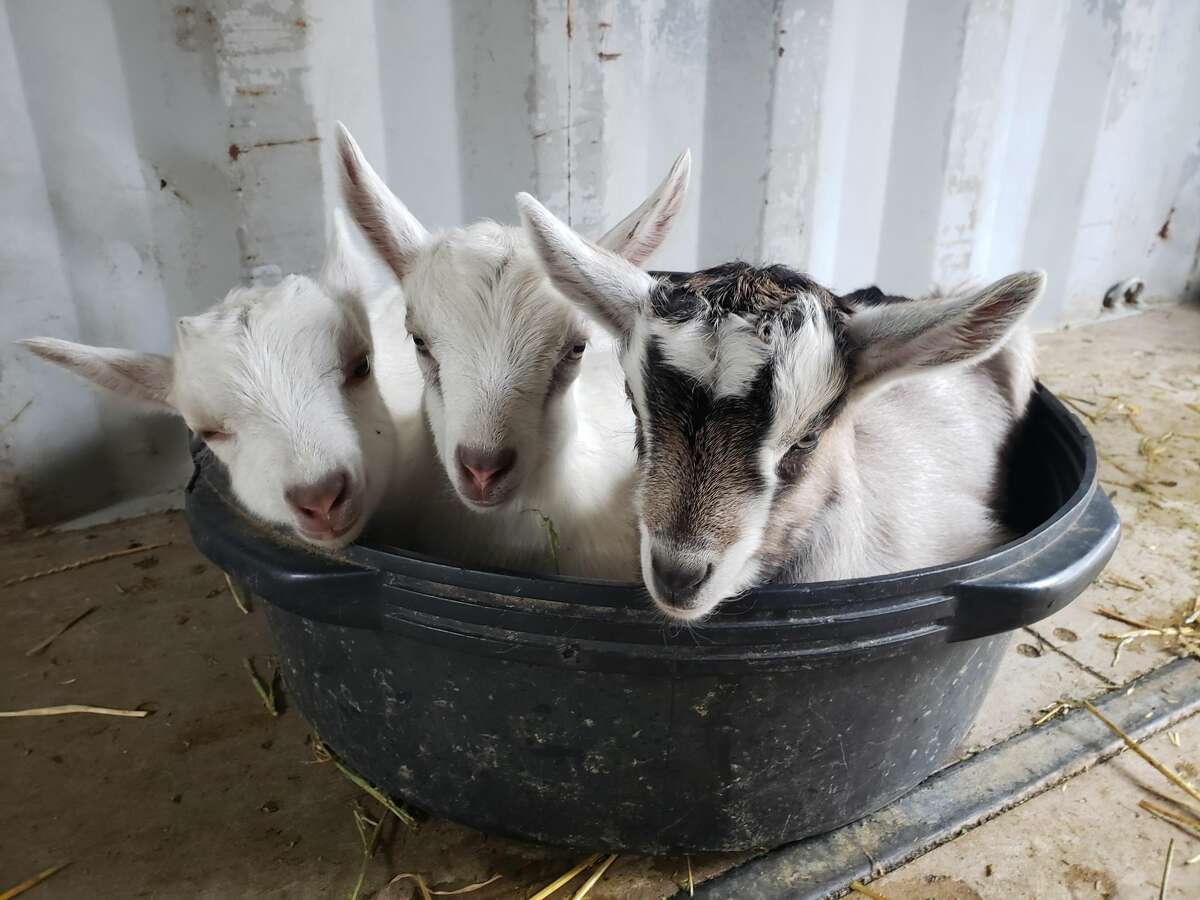 Generations of goats: These are some of City Grazing's newest adoptees.
Courtesy of Genevieve Church/City Grazing
During our conversation on a sunny May afternoon, she tells me the hardworking animals have wrapped up their most recent project: grazing on the outskirts of the Potrero Hill Community Garden, where Estelle West's herd of city-dwelling goats previously resided.  
Church herself wasn't expecting to fall into the vocation of goatherding, but feels proud that her nonprofit is playing a role in keeping the city's legacy of goats alive. The way it happened, she said, "was almost by accident."
Church moved back to her hometown of San Francisco from Seattle in 2012 after her marriage ended, and her glass-blowing business went under due to the economic recession. Starting back at square one, she was looking for a career change and happened to stumble upon a Craigslist ad to care for 40 goats in Bayview. It seemed to be the ideal transition for Church, who lived on a cattle ranch growing up and has always held a fondness for animals.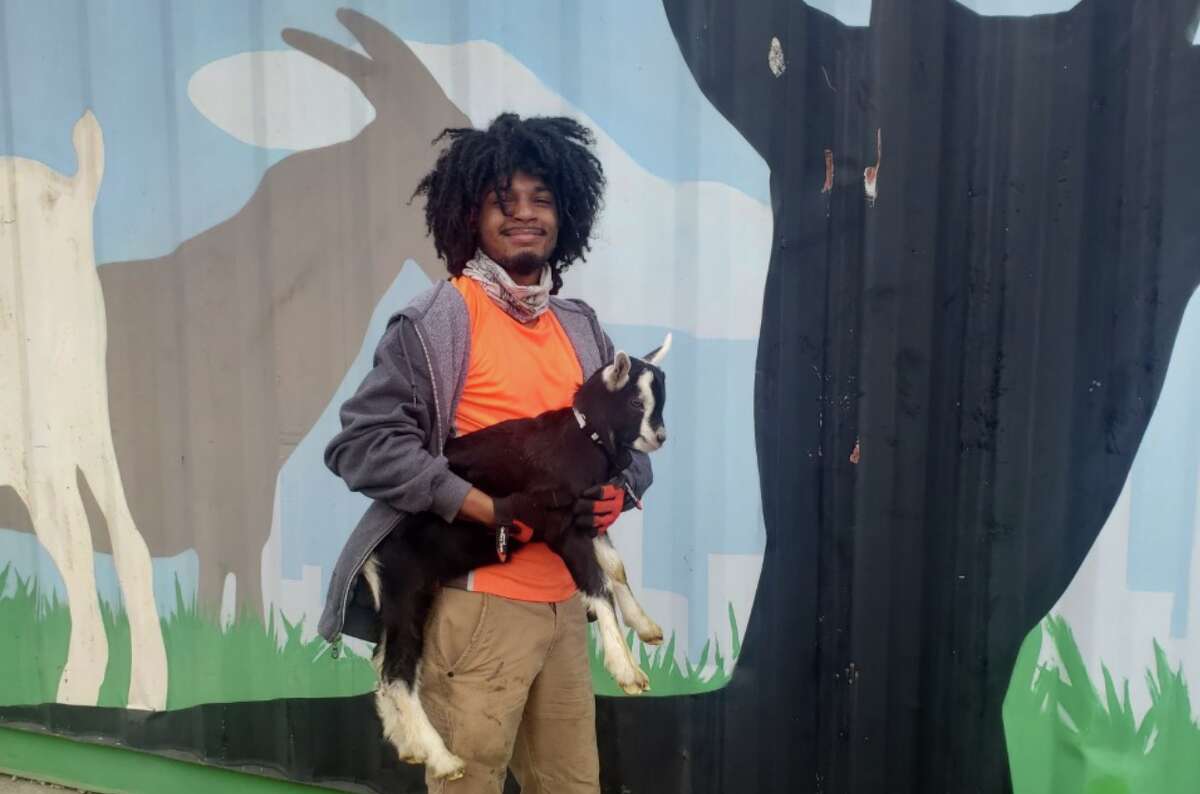 City Grazing goatherder Rochean Chapman holds Lurin.
Courtesy of Genevieve Church/City Grazing
Today, the goats of City Grazing respond to calls at the likes of UC Berkeley, UCSF Mount Sutro, and several residential locations. (Church informs me she can't disclose where those are because the presence of the goats frequently draws a crowd.) The goats will start their annual grazing project in the Presidio on June 9, gradually moving up the hill toward the top of the Lyon Street Steps.
"They've brought so much joy to the community and into my own life," she said. "And their impact in the long-term has been astounding. We're seeing a return of native plant species and topsoil development in places like the Presidio. The vegetation is changing and we're seeing a real change in what's growing here." 
I ask Church how she feels about the comparison to West, and her enthusiasm doesn't wane. 
"It's an absolute honor to carry the torch of this awesome goat legend," she says. "We love that we're keeping this tradition of goats in the city going, and we've found a way to do it [where] the city allows us to stay. I couldn't imagine myself doing anything else."