At the end of each day, cafes, restaurants, and grocery stores around the world are left with unsold perishable food. Some companies – large grocery stores and wholesale suppliers, for example – have large amounts of leftovers that can be donated to grocery banks and homeless shelters. But the smaller folks – neighborhood shops with a few leftover sushi rolls or what's left of the day's soup – tend to land in the trash.
This week, an app launching in San Francisco and Oakland will change that equation forever. Too Good To Go gives users the opportunity to purchase available surpluses at local bakeries, markets and restaurants at a substantial discount. Everyone wins: The company pays more of its costs, the eater fills his refrigerator for a song and excess food is no longer rotted in a landfill.
Too Good to Go, which started in Europe in 2016, is now present in 15 countries around the world. It landed on the US east coast in 2020, and this week's launch in the Bay Area marks its arrival on the west coast. Too Good to Go will also be available in Seattle and Portland within a few weeks, and founder Lucie Basch says this is just the beginning.
"We plan to be in many major US cities by the end of 2021, and eventually hope to be all over North America, from major cities to small towns," she explains.
Too Good to Go has already won over 100 local partners in SF and Oakland, including Gracias Madre, Mission Chinese, Daily Driver, Mochica and La Boulangerie. Neighborhood shops, pizzerias, cafes and other grocers have also joined the platform. Whenever they expect a surplus, these local businesses update the app to show how many "surprise bags" they have available. Users can browse the options and reserve one for themselves.
A surprise bag from To Good to Go partner La Boulangerie (courtesy Too Good to Go)
While you never know exactly what will be in a surprise bag, the cost, usually between $ 3 and $ 6, is shown upfront. "The stores can also update the surplus in real time, depending on how sales develop over the course of the day," explains Basch. "This is where we are bridging the void in the food rescue ecosystem, and our strategy of starting in high-density urban areas makes it easier for consumers to absorb the surplus."
Since launching in the US last year, Too Good to Go has saved 250,000 meals in more than 2,000 food companies. With more than 10 million tons of food thrown away each year in California alone, the app could help reduce the environmental impact of food waste.
"The response from the US market has been incredible," says Basch. "Americans have really embraced the concept of fighting food waste while supporting the local people and acting sustainably in fun ways. We have seen faster growth here than any of the European countries we have launched so far."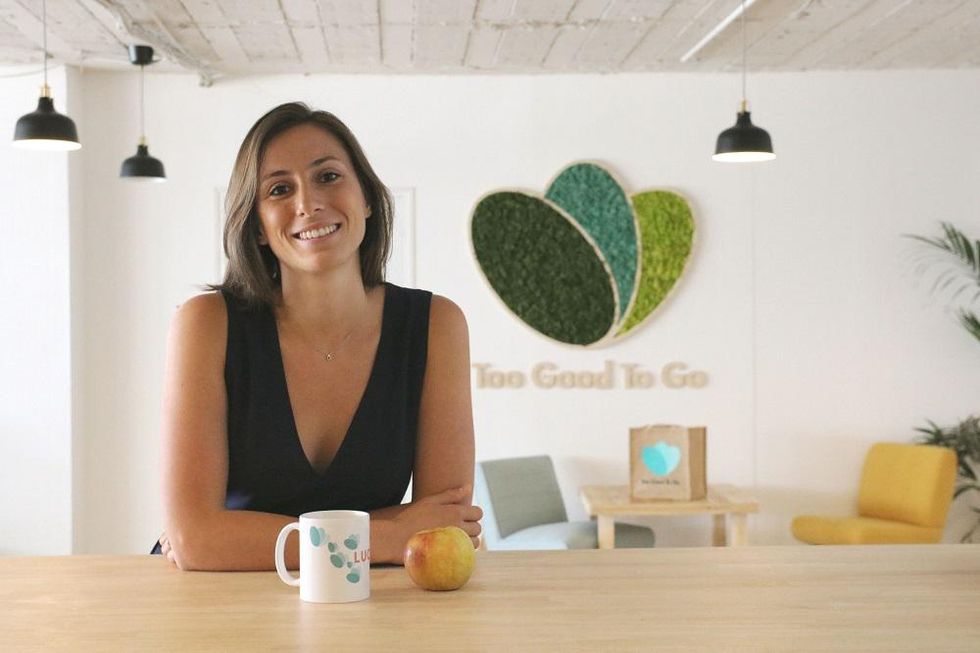 Too Good To Go founder Lucie Basch (courtesy Too Good to Go)
As Too Good to Go continues to grow, Basch is already striving to find other ways to improve the sustainability of national and global food systems. In the UK, they recently teamed up with influential grocery brands to raise awareness of the difference between "use by" and "sell by" labels on perishable products. This is a point of confusion that contributes to food waste. Basch hopes to start a similar campaign here.
"We want to think about how we can make a bigger impact here in the US beyond our app," she says. "We really dream of a world with no food loss or waste. We believe that one day we will get there."
// Too Good to Go starts on May 5th in the Bay Area. The app is available for iOS and Android. toogoodtogo.org.