Do you fancy something new?
If you love to eat and drink, this week is a great opportunity to explore the world of food and drink in San Francisco. From a wine tasting to a bread-making workshop, here's what to do in the local food scene this week.
Hoodline offers a data-driven analysis of local events and trends in different cities. Links in this article can earn Hoodline a commission on clicks and transactions.
PinotFest: The great Bacchanalia
From the event description:
San Francisco's original all pinot noir bacchanalia returns to Farallon for the 21st time. The extensive tasting of Pinot Noir from over 50 of the best producers in Oregon and California as well as a very special "Pinot Noir Pop-Up" from our wine friends in New Zealand offer sumptuous starters to complement the wines and the opportunity to meet the winemakers.
When: Saturday, November 16, 2 p.m.
Where: Farallon, 450 Post St.
Price: $ 125 (Grand Tasting); $ 185 (Early Bird VIP)
Click here for more information and to get your tickets
Vintners Estates wine tasting / purchase
From the event description:
Enjoy an afternoon of wines with more than 95 points from Napa, Sonoma, Paso Robles and beyond with us. The beauty of SF Vintners Estates is that we bring award-winning, super-small production wineries to one location in San Francisco. Many of these wineries are only allocated, not open to the public, and have ridiculously good wines with more than 95 points from "Wine Enthusiast", "Wine Spectator", James Suckling and Robert Parker. Lots of the winemakers will flock here for you, and you can buy your favorites to take home or have them shipped.
When: Sunday, November 17th, 1pm
Where: Golden Gate Club – Presidio, 135 Fisher Loop
Price: $ 50 (General Admission); $ 62.50 (spare room)
Click here for more information and to get your tickets
Up to 49% discount on the bread baking course at Sour Flour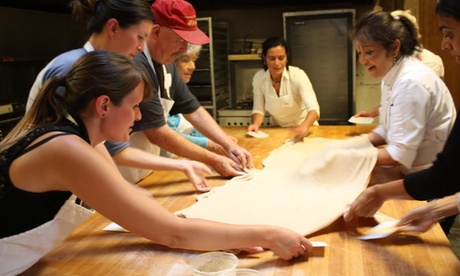 From the description of the Sour Flour store:
In this workshop, you can look forward to a fun, hands-on session that will discuss everything you ever wanted to know about using and caring for a naturally fermented sourdough starter made from wild yeast. As you learn the techniques used by artisan bakers, you will get excellence from your starter and learn how to prepare it for baking all of your favorites like pizza and traditional rustic breads. In this two-hour workshop we will examine all aspects of feeding and caring for a sourdough starter and use it to make a delicious sourdough flatbread in class. You will go home with your own starter and the knowledge and confidence to use it to bake your own sourdough bread at home.
Where: Sour Flour, 1565 Kirkwood Ave.
Price: $ 40.50 (49% off regular price). More options are available.
Click here for more information and how to get this deal
This story was created automatically using local event data and then reviewed by an editor. Click here to learn more about what we do. Do you have thoughts Here you can share your feedback.