By David Landis–
When it comes to the quality of the food in San Francisco's restaurants, we're pretty much number 1 in America (maybe in the world). We claim such well-known chefs as Alice Waters, Dominique Crenn, Tyler Florence, Annie Somerville, Thomas Keller and more. And our culinary commitment here – not to mention all of the James Beard Awards – regularly rewards us with top awards.
But restaurant design? Not as much. Sure, we have the wow aquarium factor at Waterbar. the floating jellyfish candlesticks in the former Farallon; and (in the bar section) the crazy Tiki vision of Zombie Village.
I always felt that our restaurants here might learn a lesson or two about how fascinating restaurant design can be from our neighbors in southern Los Angeles. The quality of the food there is not necessarily always the same. But the artistic design – in places like Beauty & Essex or Tao in Hollywood or The Bazaar by Jose Andrés in Beverly Hills – immediately envelops guests in a fantastic vision and makes them feel special.
That will change here. Step into one of San Francisco's newest culinary and artistic delights: Palette by Peter J. Hemsley.
Chef Hemsley's ingenuity is an explosion at the intersection of food, art and design. There's a reason this new company is called Palette. "Palette is a play on words," Hemsley tells me for the San Francisco Bay Times. "The palate of your mouth – and the palette of the artistic side. Spelled differently, but phonetically the same. "
Chef Hemsley recalls: "When I ventured into the dining world on my own (after staying at Quince in SF, Daniel in New York and L'Arpege in Paris, no less), it was a conscientious decision to combine my capacities for art with my cooking career. My goal was to incorporate this into a holistic experience in a restaurant like I had never seen before. I wanted to do something unique and creative. In addition, it was a dialogue between me and the artist community of San Francisco in which other artists were sought. It was a journey. "
A unique journey. At Palette, you won't find the typical glassware or tabletop setups in most restaurants. That's because Hemsley hired Berkeley glass artist Sam Shumacher to create unique glassware. Palette's table settings are also unique: the unique blue, black, and white earthen panels are from Black Wing Clay; and the cutlery is the work of Oakland craftsman James Austin.
Says Hemsley, "Sam is an independent glassblower from Berkeley. We have a good relationship. We started with red and white glassware and it has developed into a complete service product: from a shot glass to beautifully decorated wine carafes. I think our wine glass is now competitive with the Riedels of the world. He does them one by one. People can't really copy what we do. Chips and breaks happen just like any other restaurant, but I have a relationship with Sam where if a glass breaks I can bring the glass back to him and he can put it back into the mix. You can't do that with Riedel. "
He continues: "The plates are from a two-man ceramics studio, Black Wing Clay. The blue and white design was a little wrong. I wanted a black and white set (to match the overall design of the restaurant). Pottery is a process; it doesn't always turn out the way you intended it to. The black / white plates came out black / white / blue. But it speaks to the dialogue of the Cal Coastal wave symbology. It works really well. "
Speaking of Cal-Coastal, why does Hemsley use these terms to describe his kitchen? "Basically, we are immensely spoiled to live where we are," he explains. "We are close to the Pacific, which is an inspiration for me and the restaurant. The coastal fog line, the farms and the suppliers are in this 8km stretch of coast: farmers, winemakers, keepers and the fish from the sea, all from the Pacific. It's a sense of place where we are physically. It's an inspiration. "
Palette's setting is curated as if you are in a museum. When you arrive you will see the black and white super graphic on the outside of the restaurant that defines the space. Lounge music is played just loud enough to create a cool atmosphere without having to speak loudly about your guest.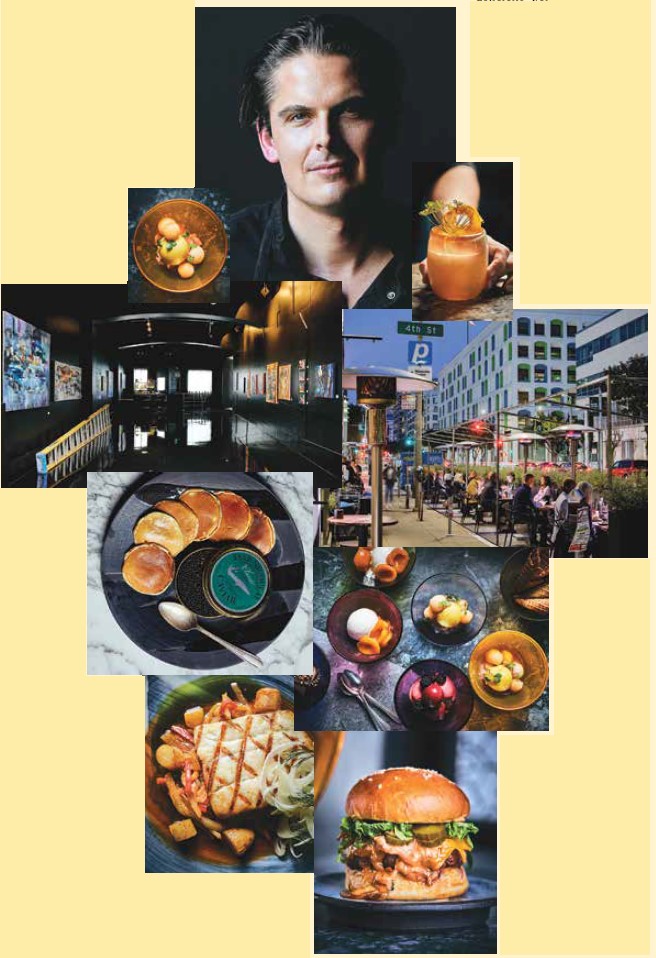 The outdoor parklet we ate in is a work of art in itself – and an extension of the brand. I've never seen such a beautifully designed and visually inspired parklet. The barrier between the guests and the street is made of steel, but looks like weathered bronze.
Wonderful green landscapes adorn the "walls" of the parklet. and a black mesh that allows airflow flanks the sides and top of the dining area. The parklet is of course dog friendly with furry friends greeted with a special bowl of water (designed by Black Wing Clay, of course). Heat lamps, a welcome and often necessary addition to evenings in San Francisco, are in close proximity.
Freshness comes first at Palette, as The Gay Gourmet can confirm after two visits. We visited once before the holiday lockdown and then again when they reopened in April. The service was impeccable from start to finish. Servers anticipate your needs but never hover: they are a few notches above the norm. Both times we had dinner we started with a Negroni on the rocks made with Hendricks gin and superbly balanced, as well as the Lioco Indica rosé wine from Mendocino County which was surprisingly dry and clean – more like a Provence Rosé Than We Usually Think California Roses.
We pampered ourselves both times with the white sturgeon caviar from California (from The Caviar Company) – imaginatively served in an earthen bowl with brioche toast and an artistic dash of crème fraîche, shallots, black pepper and chives. What I personally love about California caviar (Aside from the fact that it's local, it's not as fishy or salty as other types of caviar. At first dinner my husband had the short rib cheeseburger, complete with Tillamook cheddar, pickled ramp dressing, House dill pickles and fries (extra crispy, of course!). You must love an upscale restaurant that isn't afraid to put a hamburger on the menu – and then deliver in terms of quality and price.
For this first meal, I tried the local west coast halibut with clams, Marin Roots Farm Bok Choy, snow peas and yellow curry. The halibut, perfectly cooked (juicy and tender), probably came out of the sea that day because it was superbly fresh. The combination of spices, local vegetables and mussels resulted in a wonderful mixture in which the flavors mingled wonderfully.
On our second visit, we started again with the caviar, which is just as delicious. For our second course we share the Dungeness crab crostini with English pea and mint (most dishes are easy to divide). What a delightful combination of flavors that reminds us that there are only a few weeks left of our local crab season – and yes, it's English pea season again. For our main course, we shared the Stemple Creek Ranch lamb meatballs. They had just the right amount of Moroccan-style spices (like the best dishes in Mourad), served with herb chickpeas, zhoug (a flavorful coriander sauce), Greek yogurt and fennel.
The wine list is extensive. New to Palette is wine director Jeremiah Morehouse, a master sommelier we knew from his time at SPQR. We opted for a French Louis Michel & Fils Chablis – dry and crispy with strong mineral notes – that didn't break the bank. In addition, the cocktail program (designed by bar manager Trevin Hutchins) is imaginative and includes offerings such as the moped (bimini coconut gin and Japanese bermutto), a Bangkok Babylon (rum, coconut and lime leaf) and a toucan (Spanish ) Wormwood, campari and charred pineapple).
For dessert, both of our offers were struck off the charts: we tried a vacuum-filled blueberry mille feuille with buttercream and sorrel that melted in our mouths; and we tried a scoop of passion fruit orange sorbet with citrus peel as passion fruit is one of my favorites and always reminds me of Hawaii.
With Palette you have several options for dining: The first is the outdoor parklet. The second option is the gallery, which has a rotating art exhibition (currently an exhibition by contemporary Sino-Austrian artist Jun Yang (https://www.Palette-gallery.com/jun-yang) and Korean artist You Ich was Kim (https://www.Palette-gallery.com/youbeenkim) According to Palette, this show "reflects the turmoil and intense emotions of last year." While sipping a cocktail and art in a cozy, club-like setting Environment, you can order imaginative bites and sit in pods with friends in a COVID-safe configuration.
The third dining option, which is about to open, is the main dining room, which offers an upscale dining experience worthy of a special occasion. And the fourth is an intimate and very special private dining room anchored by a wooden table with living edges.
What makes Palette so special? Chef Hemsley says, "Eating out is a luxury. It's part of city life. I don't want people to feel guilty for indulging in something. People should enjoy life. We want different people with different budgets. Maybe you have a burger on Tuesday and caviar on Friday and once a year you have the culinary experience on your birthday. (With Palette) you get the experience you pay for – you are the driver in our restaurant. "
Palette is located on Folsom Street off 4th Street in the SOMA neighborhood of San Francisco, near the Convention Center (on the site of the former Lulu).
Pallet: https://Palette-sf.com/
Bits and Bites
There is a new addition to the city for beer lovers. The third largest craft brewer in the US, New Belgium Brewing, just opened a store in Mission Bay (near Oracle Park and the new Chase Center). However, New Belgium Brewing not only offers beer, but also "globally inspired seasonal cuisine" under the direction of Laura and Sayat Ozyilmaz. It's a large space with indoor seating for 100+ guests and 60 seats on the outdoor deck at 1000a 3rd Street. And a plus for LGBTQ guests: the human rights campaign awarded the company the "best workplace for LGBTQ equality". Play ball, drink beer and be proud!
New Belgian brewery San Francisco: https://www.newbelgium.com/visit/san-francisco/
Eat for Life San Francisco April 26-30
Several restaurants take part in this week-long campaign. Many of the Castro's restaurants – including Catch, Canela, La Méditerranée, Lookout, Starbelly, Swirl, Willkommen, die Wurstfabrik and Fable (as well as The Vault Garden in the city center) – are part of the fundraiser. When you order from a participating restaurant's Dining Out for Life menu, a portion of your bill will be donated to the San Francisco AIDS Foundation.
Food for Life San Francisco: https://www.doflsf.org/
David Landis, also known as "The Gay Gourmet," is a foodie, freelance writer and public relations manager. Follow him on Instagram @GayGourmetSF, on Twitter @david_landis, email him at: [email protected] or visit him online at: www.gaygourmetsf.com
Published April 22, 2021