Most people agree that San Francisco is a foodie's paradise, and a great way to experience it is on a food tour. Spreading these excursions is a great opportunity to get up close and personal with popular neighborhoods, restaurants, and eateries Bars, and to learn about favorite (and sometimes secret) places.
Food tours come in a variety of flavors – some serve the food alongside historical stories. Others make food the focus of attention. Recently, I've been researching several options:
GOURMET GOES
What: The tours are heavily focused on the food and have a touch of history. They focus on the food-focused Hayes Valley, Fillmore, and Russian Hill. Our guide was a serious foodie who knew her way around the hood. During the three hour walk with seven stops, we enjoyed reserved tables with specialties on the way. Each tour is slightly different due to the number of partnerships in the region.
Where: The tour started at Patricia is green, a park on Hayes Street. Whipped ice, next to the park, is in a misappropriated shipping container next to an open-air theater and a practice area. We watched liquid nitrogen freeze each order individually.
On the Fat calf and tastes of various artisanal salumi, pâtés and cheese – even lamb bacon. They offer classes, run butcher happy hours, and promote human-raised animals.
At the gearWe sat at a high table and shared a variety of starters, including baobab, followed by savory meatballs, accompanied by our selection of wine, beer and cocktails. This casual eatery is open all day in the old AAA building on Van Ness Avenue.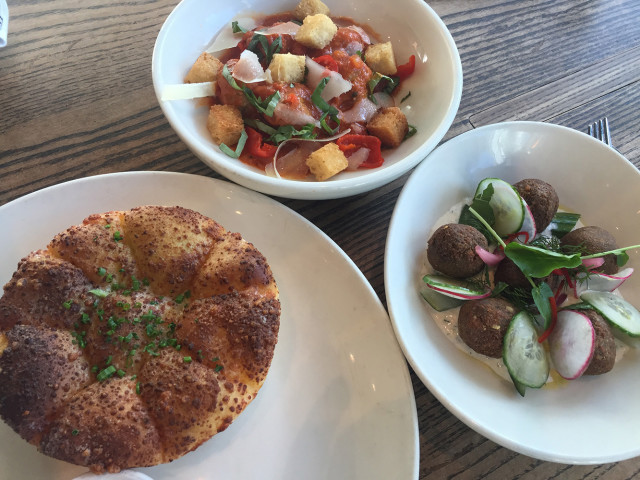 At a table under the trees on the backyard deck Arlequin CafeWe tried a selection of local cheeses, honey, candied walnuts and fruit compote – all paired with a 2015 Viano Vineyard Chardonnay.
From there we went to DragonEats, a small Vietnamese restaurant that serves great flavors. Don't miss the Garlic Butter Chicken Banh My on a bullet baguette.
The last two stops offered sweet treats. A selection of decadent chocolates from Christopher Elber (Blood orange and coffee caramel truffles) and off Rented, a pumpkin cupcake.
It's a great way to explore the neighborhood (888-277-1796, gourmetwalks.com).
AVITAL FOOD TOURS
What: This three-hour tour of North Beach and the Barbary Coast has a unique twist – a progressive 4-course meal with two starters, one main, and one dessert as you learn about the history of the area and the cuisine. All tables are reserved; Food is ordered in advance.
The goals change regularly, all with the aim of telling great food and good stories shared by informative guides.
Where: Washington Square was the starting point with stories about the gold rush and the influx of Italian farmers and fishermen around the turn of the 20th century.
The first stop for a starter was Sotto Mare Oysteria & Fish Market, a local favorite for cioppino (hearty seafood stew).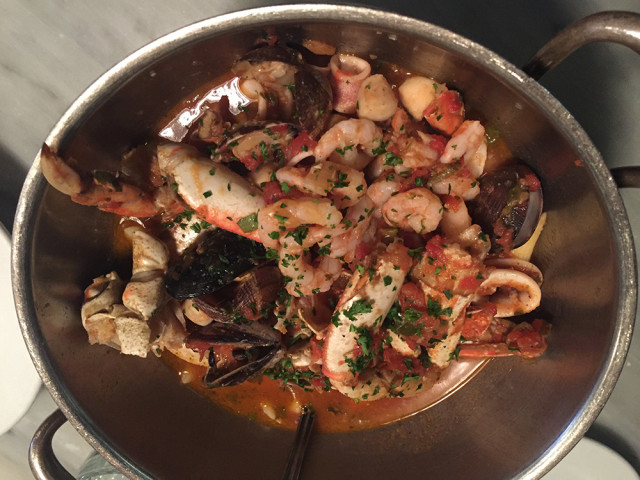 Like the Italians, the Chinese were lured to San Francisco with the promise of gold. A vibrant community emerged next to North Beach. China Live was our second stop. This multi-story venue was designed by George Chen and includes a cafe, market square and stronghold– –End of restaurant and whiskey bar. We sat in the cafe on the ground floor and watched as chefs prepared dumplings, duck dishes, desserts and cocktails at different stations. The Peking duck pocket was a delicious starter served in a sesame bun with a kumquat icing and a blonde ale from Shanghai.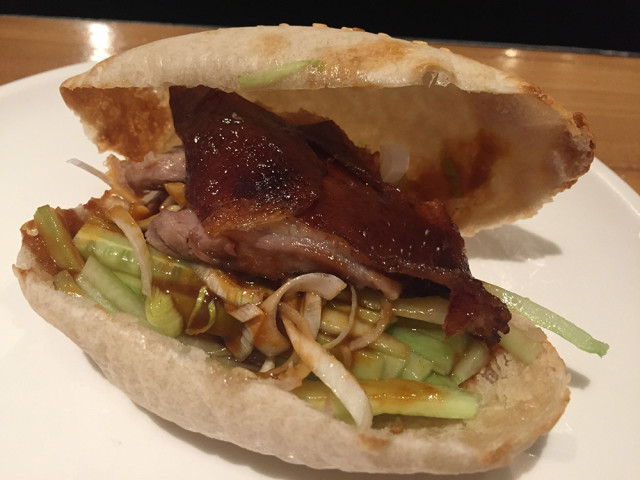 From there we walked around the Barbary Coast (similar to SF Tours below) and made our way to the main course Tomassos, an institution in San Francisco. It has the west coast's first wood stove (from 1935) and the walls are hand-decorated– –painted murals of Naples and the Amalfi Coast. Family owned for more than 80 years, most of the recipes are secret – – Try the results in pizzas like the margherita and the sliced ​​Italian hot peppers. Swooning over the original prices: $ 0.75 for a small pizza and $ 1.50 for veal scaloppini. We combined pizza with the branded red blend of 2016 (Zinfandel, Merlot and Syrah).
The last stage took us to Lush gelato. It works exclusively from the ground up with locally sourced ingredients and is the largest gelato production outside of Italy. The dessert consisted of a scoop of salted stracciatella and Tahitian vanilla (415-355-4044, avitaltours.com).
EDIBLE EXCURSIONS
What: T.His two hour tour is a great introduction to the iconic Ferry Building and its many suppliers. I joined a company team building group with our well-informed guide, who is also a private chef. Providers are selected each day (all tours vary slightly) and usually include nine to 10 Stops per tour. We sat and tried samples at a few stops. At others, our guide pulled out goodies she had bought earlier the day before the crowd.
Where: The Ferry Building, with its remarkable clock tower and uninterrupted views, is a popular destination for locals and visitors alike. Farmers' markets are held here all week long. The building opened in 1898 (before bridges were built) and renovated after the 1989 earthquake.
Today, countless suppliers offer visitors a diverse selection of handcrafted goods on an area of ​​75,000 square meters with vaulted glass ceilings.
The tasting started right outside the door, where we enjoyed a delicious apple tart Frog hollow farm. At the Prather RanchWe had some dry ripened shoulder meat, one of many products from their man-raised herd of cattle. You will be amazed by the edible creations Recchuiti confectionery (like the lily caramel with its wonderful burnt taste).
At the Delica We sat and ate a delicious chicken dumpling and a spicy salad (the company is part of a Japanese deli chain). Next: Acme bread and Cowgirl Creamery – – both owned by alums of In panic. We enjoyed the rustic bread and the delicious triple cream. Tam cheese.
From the remaining stops OTD was the tasty one – – Vietnamese poached spring rolls, both shrimp and pork. It's the fast one– –occasional relative of the Sloping door.
Our sweet stops included Dandelion small batch of chocolatewhere we tried handmade bars. At the Rented, we nibbled on pumpkin french macarons and finally, after several spoon-sized flavors Humphry Slocombe, finished with Vietnamese coffee.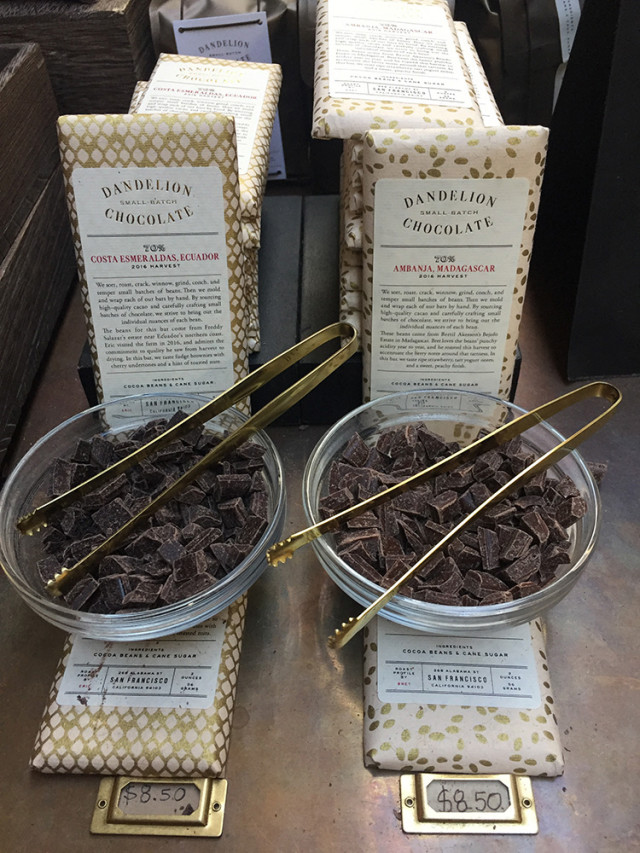 On this tour, you'll satisfy cravings and explore one of the most famous foodie havens in the Bay Area (415-806-5970, edibleexcursions.net).
SF NATIVE TOURS
What: Founded by a native San Franciscan with strong family roots, this excursion offers insights into downtown San Francisco, Barbary Coast-Jackson Square, North Beach, and Chinatown. The four-hour tour offers more history with a side of the food, offering rich stories and a focus on the city's culture, including hidden gems and local specialties. (The company also offers a local beer tour.)
Where: The hike begins in Redwood Park at the foot of the Transamerica Pyramid. We learned of the 1849 gold rush; why street names are printed on the sidewalks (to help fire fighters); as well as the many POPOS (private public open spaces) in the city.
We stopped in Jackson Square for a quick panini Giovanni's Cafe then along Gold Street, where we heard of brothels and bars that flourished in the 1860s, as well as the underground tunnel where young men were "Shanghaied" to do work on ships.
While walking through North Beach we got to know Italian history and the beat generation. We passed it saloon (the oldest bar in San Francisco that was saved by firefighters after the 1906 earthquake because the hookers were working upstairs) and Caffe Trieste (oldest espresso coffee house on the west coast).
From there we enjoyed fudge too Z. chocolate and cookies from Stella bakery On our way to Molinari delicacies on Columbus Avenue. We grabbed tables outside and enjoyed arancini, olives, caprese salad and a deli sandwich.
Chinatown was our ultimate destination. We heard stories of its settlement as we meandered through alleys and busy markets. We ducked into a fortune cookie factory and down Stockton Street Delicious dim sum on Jackson Street for potstickers, dumplings, and pork rolls.
The tour ended in Portsmouth Square. Historical markings there indicate the state's first public school, the raising of the American flag in 1846, and the east terminal of the Clay Street Hill Railroad. Today the square is a meeting place for young and old with chess tables, tai chi and a playground (415-797-7368, sfnativetours.com).
OTHER ESSENTIALS
San Francisco Travel: sftravel.com