Last week I was in San Francisco, one of the most beautiful cities in the world, shooting a video for Kelby One on Crissy Field – one of the best spots in town – at the foot of the majestic Golden Gate Bridge when one of my cameras was stolen right in front of me.
Let's call this a stand-up robbery – but at least there was no gun game.
On Thursday around 5:30 pm I did what they call "stand-up" in stores. The tripod was extended, the camera mounted, the microphones connected, and there I was, talking directly to the camera about great places in San Francisco, the best photography.
At that moment, a young teenager came running towards me with a huge grin on his face – faster than you can imagine. He was somehow able to grab the entire tripod and camera and slide it into the getaway car in seconds – a blue Honda.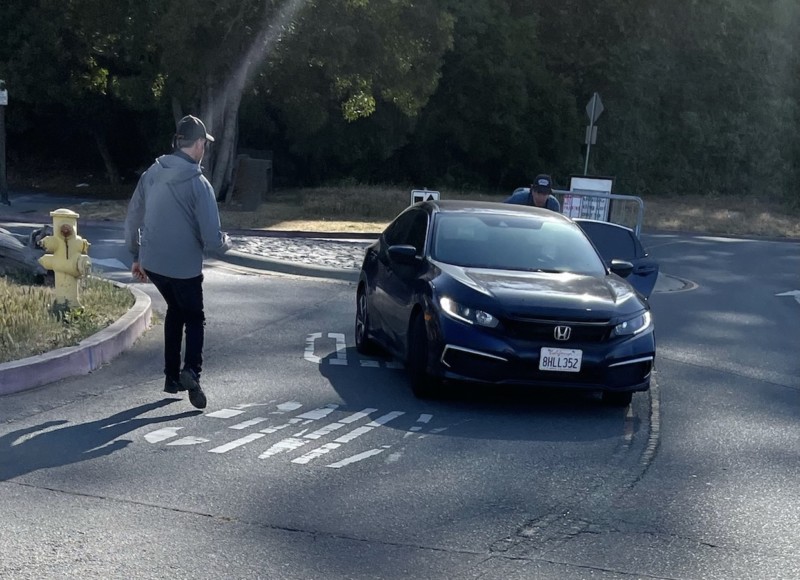 When I screamed "No!" and ran after him, the duo ran off like Bonnie and Clyde and had long since disappeared from the Presidio by the time the police responded to my call. But since this was the age of the internet, two passers-by somehow had the feeling to take quick smartphone photos of the escape and the license plate: CA 8HLL352.
The policeman said he was happy to have the license plate number, but this robbery is currently so unremarkable in court that even if the thieves caught him without video evidence, they would be released within a day or so. The camera and lenses would be sold, they would pocket the proceeds and target someone else in the park. Sites like eBay and Craigslist would have new listings.
I've done stand ups all over the world, from Madrid, Venice and Lisbon to Tokyo, Osaka and Paris to sketchy parts of Los Angeles, Las Vegas and New York City, and nothing like this has ever happened to me.
I am not writing this as a "woe to me" exercise now, but to let people know that none of us are invincible. Danger!
Crissy Field in San Francisco
The sad thing is that what happened to me isn't uncommon in San Francisco these days. In March, a reporter from KPIX, the local CBS station, filmed a report of thefts in Twin Peaks, which has a breathtaking overhead view of the city. An armed group of thugs robbed his television camera while he was making the report.
In February, equipment was stolen from a property photography team in San Francisco while the car was stuck in a traffic jam. The thieves saw the bag, smashed the back window, and quickly set off with $ 7,000 worth of equipment. This was recorded on tape by a Tesla dash cam.
In late 2020, a crew working on a television commercial in town took over $ 50,000 in equipment during a shoot.
I played endlessly in my head what I could have done differently.
A bad move: I made the stand up very close to the road, which made it easy for the getaway driver to pull up right there and do a quick vamoose.
Next time: Stand in the middle of the field.
Crissy Field in San Francisco
Except let's be honest: People on bicycles, rollerblades, and other wheeled vehicles race up and down the sidewalk in San Francisco, so you can quickly swing past and grab your belongings quickly. While I am wondering how to ride a bike and do a huge camera / tripod operation, I am sure if there is a will there is a way.
I shot with the largest lens I have: the huge Sony 70-200mm G-Master f / 2.8 lens which unfortunately, I now believe, was a thief magnet and said, "Steal me! Steal me! "A smaller lens (85mm 1.8) on a smaller camera would make more sense on the go. Right?
I wish there was some way to chain a tripod to your leg. Either way – at least no weapons were involved. When all is said and done, even though I lost my job for the day, it's just equipment. That can always be replaced.
The total for the thieves: a Sony a7R IV, a 70-200mm lens, a Rode Wireless Go II microphone, a Manfrotto tripod, and two 128GB SD cards. Total: Worth more than $ 6,000.
So, Paul's photo, you will see me shortly!
San Francisco: I will never give up on you
I didn't leave my heart in San Francisco, but I met her there. Her name is Ruth.
I have more amazing memories of great times in the City by the Bay than bad ones. (See: Record Store, NanSanFran, Jeff & Ed, Volare, the Columbus Motor Inn, and I could go on and on.)
I love New York, the most dynamic city I know and the place where I grew up. Los Angeles is diverse and impressive in many ways, but there is more natural beauty in San Francisco than in any other US city. Think about it. What is comparable?
I heard from so many of you on Saturday in response to my post that my camera and equipment were stolen during a video shoot. Thanks for that.
Under your comments:
"This is San Francisco's fault."
"The city is now closed to visit because of the crime."
"Nobody can feel safe there anymore."
Reading stories like this (and more in the blog post) is the reason I will never visit SF again.https: //t.co/oAz3g1Eaae
– Marty Mankins (@martymankins) May 22, 2021
. @ SFMayorsOffice & @LondonBreed That's why I don't visit San Francisco anymore and tell my friends to stay away from SF too. Crime is out of control. @jeffersongraham https://t.co/xHFT2ucgjz
– Romeo Durscher (@romeoch) May 22, 2021
I am not buying that.
My story originally ran on the same day the New York Times published an article on the growing problem of shoplifting in the city and the reluctance of local law enforcement to deal with minor police thefts. This is clearly a trend that is not working well politically and is likely to lead to change sooner rather than later.
And I think it will be because a natural wonder like San Francisco doesn't go away. Tourists will not turn their backs on the city. And as I said, I will never give it up.
I was in town a little over four days and honestly just felt totally comfortable walking the streets and going everywhere: Chinatown, North Beach, Fisherman's Wharf, Haight, Castro, Twin Peaks, Embarcadero, The Ferry Building and all of the best Golden Gate spots from Chrissy Field to Hawk Hill and a few more. I usually dragged at least one tripod, if not two, multiple cameras and lenses around my neck and an iPhone by the handle.
Only once did I wonder if I was playing with fire when I was filming a time lapse on a pier next to the Ferry Building one night at 9:30 p.m. The only people out there were me and a guy who was fishing and playing loud, disgusting music. It was dark and a little creepy, but so photogenic with the evening light show from the San Francisco Bay Bridge.
Pier 5 in San Francisco
But then I realized that there were offices on the pier too, and since this was San Francisco, they were still occupied by technicians who, of course, work all hours. I could see her through the window. So I had company.
My friend, Jefferson's camera equipment was stolen while he was using it!
Be inconspicuous in the scenic SF. The break-ins, attacks and robberies are common. https://t.co/eZg3vAQo8m
– Jeremiah Owyang (@jowyang) May 23, 2021
About my incident in Chrissy Field: I was in broad daylight in a very popular park that unfortunately has little police presence. It wasn't my first visit to Chrissy Field on this trip, but my third. Again, I never felt anything but complete comfort and exhilaration when I was in one of the most amazing parks ever, oh so close to the Golden Gate Bridge.
But if I have learned anything, it is this: Do not shoot alone with a large camera in a large public setting, as serious professional thieves are now trying to take advantage of such situations.
Had I spoken to the iPhone, I doubt it would have happened.
Yoko Ono didn't leave New York after John Lennon was shot down there, and I'm not leaving San Francisco. It calls me up on a hill. And always will.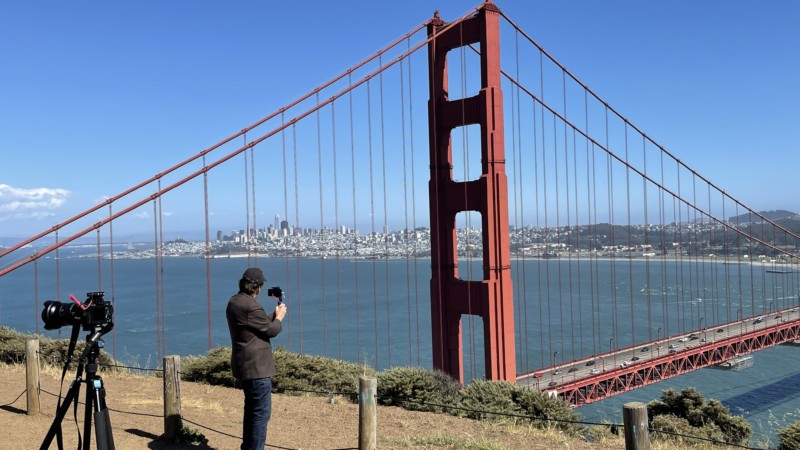 About the author: Jefferson Graham is a Los Angeles-based writer and photographer and host of the travel photography television series Photowalks, which is streamed on the Tubi TV app. Graham, a former USA TODAY columnist, is also a KelbyOne instructor and was in San Francisco on behalf of an upcoming Kelby San Francisco photography class.
This story is a combination of two articles that were also published here and here.