On a lush, overgrown hill overlooking Alemany Boulevard and Interstate 280, Christopher Renfro is growing a tiny, but potentially important, vineyard.
Growing grapes in San Francisco would not be remarkable under any circumstances. Viticulture in the city is largely limited to a few optimistic gardeners, which can be attributed to both the dense urban structure and the weather – grapes do not love constant fog and cold summers.
Renfro's vineyard is notable for other reasons as well. This tiny urban vineyard known as the Two Eighty Project may never produce much more than a few barrels of wine, but the ambitions are far greater. Renfro is trying to make it a starting point for all kinds of projects: growing seldom seen grapes, farming that can fight climate change – and with its location near the affordable Alemany Apartments complex, a place to support local youth can forge careers in food and wine.
It starts with some unusual grape varieties: In addition to Pinot Noir, Gamay and Grenache Blanc, Renfro has planted the Austrian Zweigelt grape variety. Even more daring is Roger's Red, a decorative grape variety – the variety that is not normally found in a winery, but adorns a decorative arbor. In a greenhouse he grows cuttings from grapes I had never heard of, like Merlin, Alden and America.
Jannea Tschirch and Christoper Renfro, founders of the Two Eighty Project, pose for a portrait together with daughter Ahmarie on their hillside vineyard.
Stephen Lam / The Chronicle
These final vines are still in small pots and they can take years to plant outside. Once they are max capacity won't do much as Alemany Farm is only 3.5 acres. The vines currently planted only cover a quarter of an acre; last year they only delivered two bottles of wine, although Renfro expects more this year after rehabilitating the plants.
Even so, they are provocative decisions.
Almost all grapes grown in California come from a species native to Europe called Vitis vinifera. The established wine industry views mostly non-Vinifera species, such as those native to North America, as poor quality wines. (Concord and Muscadine are two examples of Native American people.) Renfro has some esoteric vinifera cuttings in the greenhouse, like Beba, a Spanish variety, but the Merlin, Alden, and America grapes are non-vinifera species native to these shores .
It remains to be seen whether they can make a great tasting wine – or whether they are just better as table grapes. Last year, Renfro and his partner Jannea Tschirch fermented some Concord grapes they had eaten from a backyard on Church Street in San Francisco, and the resulting wine was "gross" in Tschirch's words.
Even so, the impulse to give these vicious grapes a chance speaks to a bigger issue in Renfro's mission. "I like the idea of ​​turning what other people consider trash into treasure," he says.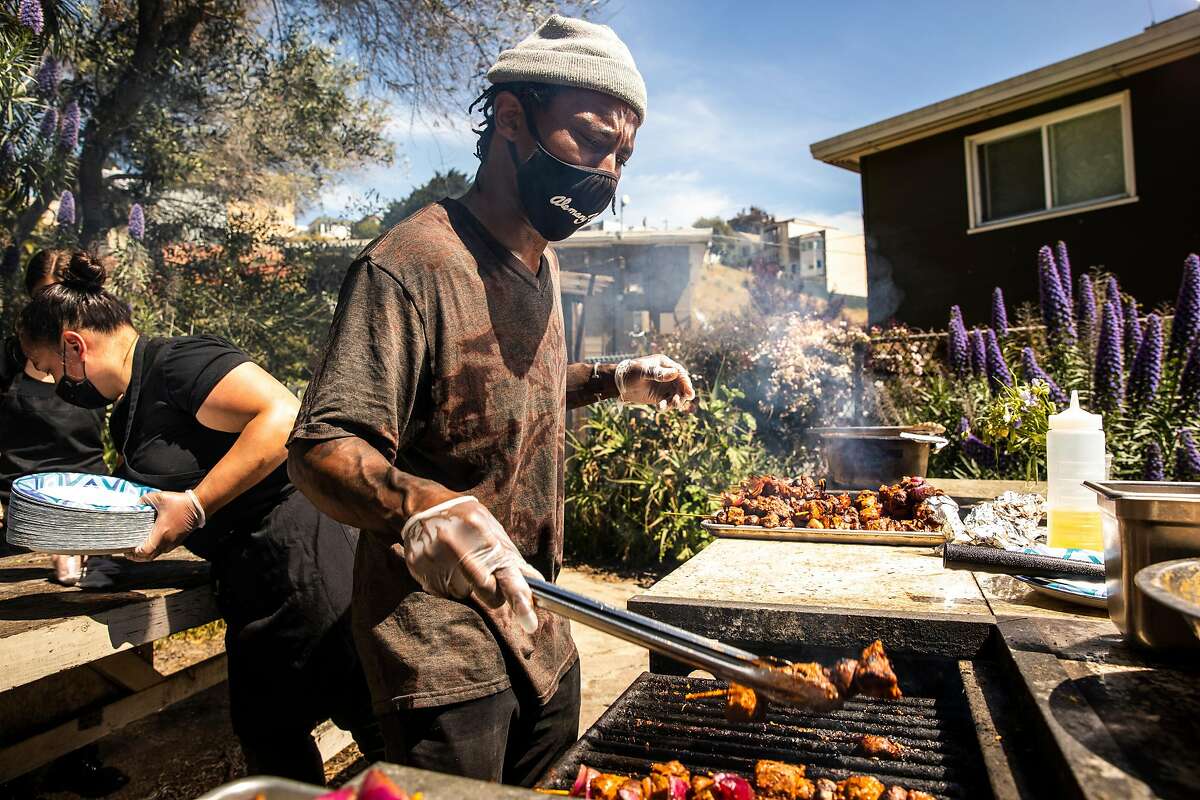 Christopher Renfro, co-founder of Two Eighty Project, grills food for a Feed the People Collective event. The kitchen is next to the Alemany Farm where he grows vines.
Stephen Lam / The Chronicle
Alemany Farm is owned by the city and run by a non-profit organization where Renfro works part-time. Renfro and Tschirch tend the vines there in their free time with the help of their daughters, 11-year-old Sula and 3-year-old Ahmarie. Alemany Apartments are located just behind the farm fence.
The idea for the Two Eighty Project arose from Renfro and Tschirch's longstanding love for wine – and a feeling of opportunity. Both developed a passion for wine while working in restaurants. Before the pandemic he was at the Liholiho Yacht Club, she at the Fig & Thistle wine bar. They also live near Alemany Farm in the Excelsior District and drove by frequently. They wondered what was wrong with the little vine on the hill.
They'd heard of a group called Neighborhood Vineyards who planted the Pinot Noir here in 2013 but couldn't get in touch with them. When Renfro finally got permission from Alemany Farm to take over the small winery, the Pinot had been neglected for at least two years in January 2020.
"It looked like tumbleweeds," says Tschirch.
Although Renfro had studied horticulture at school, neither he nor Tschirch had any practical experience in growing grapes or making wine. So he reached out to Steve Matthiasson, widely recognized as one of California's organic viticulture gurus, on Instagram to start with a few questions about pruning. The two hit it off.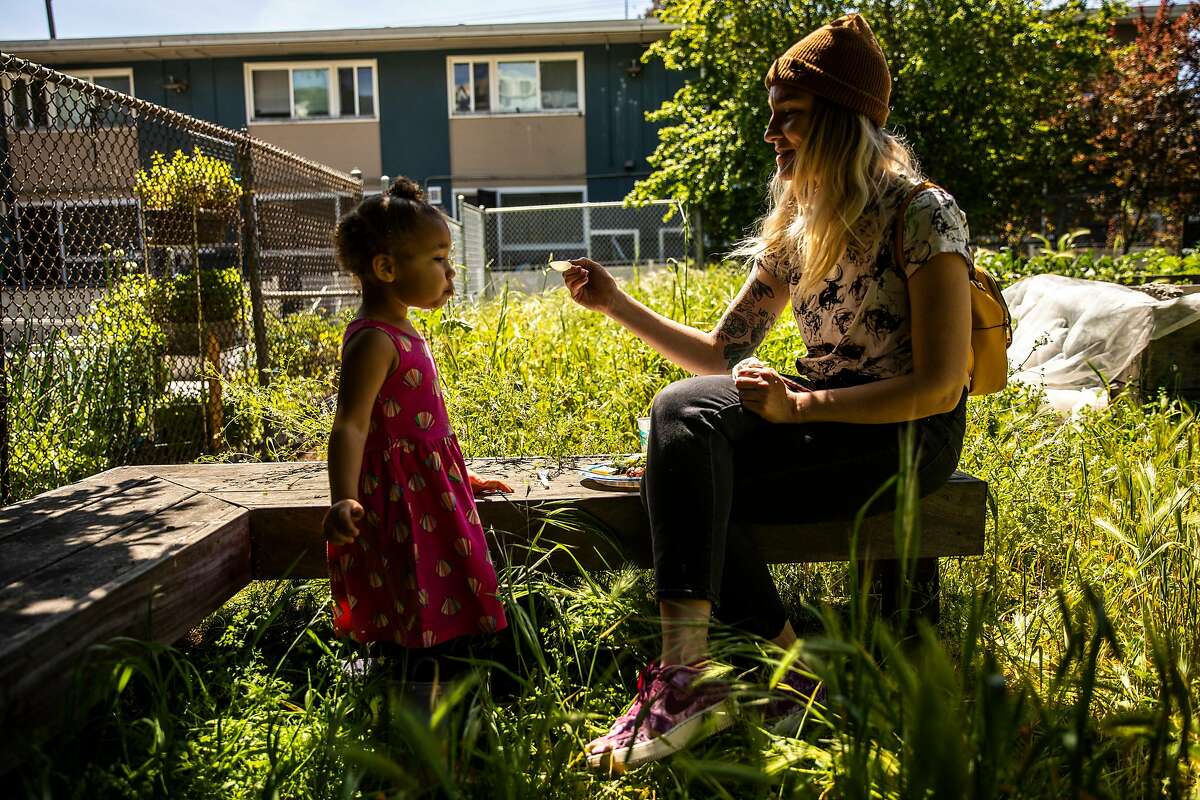 Jannea Tschirch, co-founder of Eighty Project, feeds daughter Ahmarie Renfro next to the Alemany Farm.
Stephen Lam / The Chronicle
Matthiasson sees promising results on the Two Eighty Project website, although he believes growing viticulture in San Francisco could be a breeze. "In viticulture there are so many dogmas about which grapes can grow where," says Matthiasson. "As long as it doesn't get so cold that it kills the vines, they'll be fine."
It's too early to know what the wines will look like, but "it could be a really exciting Pinot," says Matthiasson, "maybe like a crispy, red-fruity Savoie-style wine," referring to the wine region in refers to the French Alps.
However, making great wine is only a small part of what Renfro aims to achieve. First, he and Matthiasson are working with UC Davis Professor Elisabeth Forrestel to create a paid internship for color students that will give them experience working in vineyards, which likely includes stints at both the Two Eighty Project and Matthiasson's Vineyards in Napa would. You have put together a grant proposal and are looking for funding.
Wine can often be perceived as a snooty pursuit of the upper class, but Renfro hopes that by increasing the visibility of urban viticulture, it can help expose more people to the idea that wine is about farming and tending to land. He wants the children who live in the Alemany Apartments to feel comfortable exploring the farm that is literally in their back yard, learning about the plants that grow there and being interested in how their food is grown become.
Once a month, he and Tschirch cook large meals in an outdoor kitchen on the farm and offer them to the residents of the apartments free of charge, in the hope that they could arouse interest in the farm – and in food in general.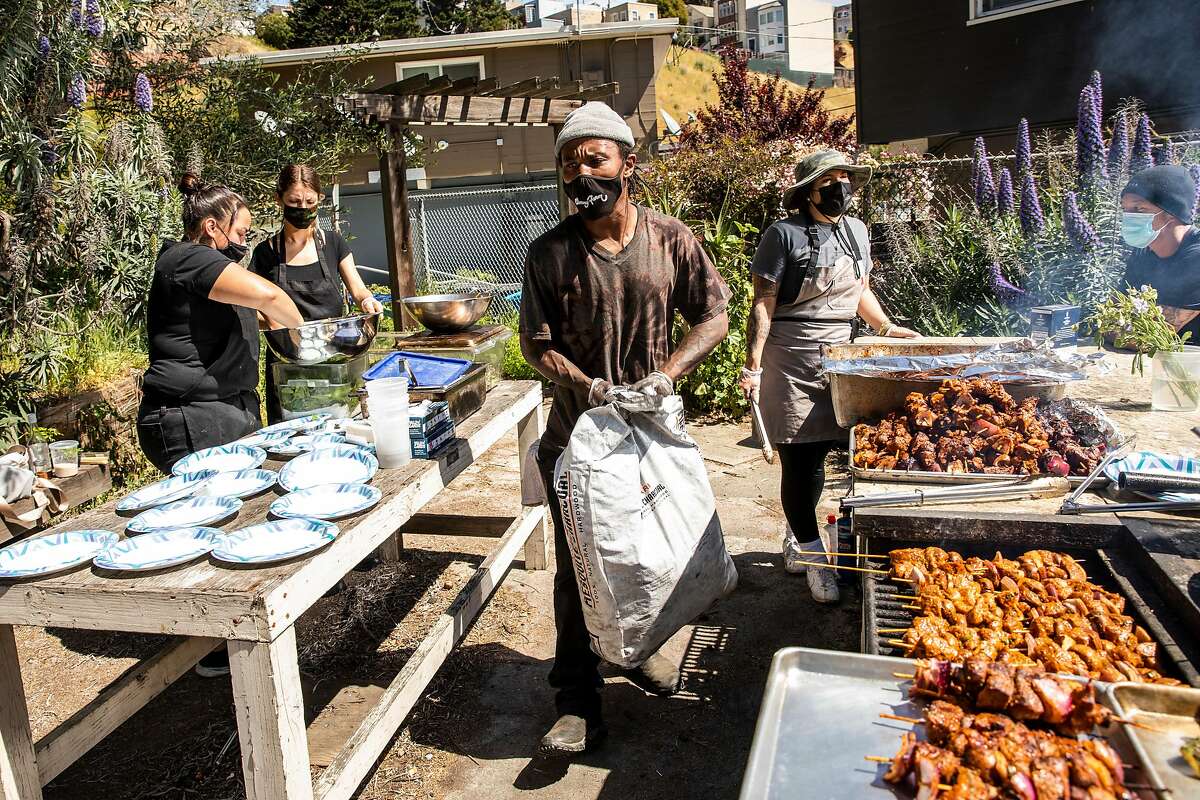 Christopher Renfro, Co-Founder of Two Eighty Project, Center, at a Feed the People Collective event on April 11th.
Stephen Lam / The Chronicle
Renfro said it could also serve a larger social purpose in attracting more people to the wine and farming world, whether as professionals or just as informed enthusiasts. He sees it as a way to correct the historical injustices of land ownership in America.
It's no secret that black Americans have historically been disenfranchised from agricultural land, which can be a source of generational wealth. Since 1920, the proportion of US farmland owned by blacks has decreased by about 90%, leaving only 1.4% of farmland owned by blacks, according to the US Department of Agriculture.
Over the years Renfro got involved in the California wine world, "I've seen that history really hasn't changed," he says. "You still have white landowners and colored people working the land."
It will take long-term systemic change to change these dynamics, but Renfro hopes he can help make this happen. By building his own business. By helping other people of color trying to break into the industry. And ideally, by ultimately buying land yourself.
He and Tschirch already have an eye on the purchase of a property – they won't say where – for a commercial winery. In the meantime, they are expanding their activist viticulture to a second urban setting: Adam Rogers Park in Bayview, another urban park where they plan to plant grapevines next month.
The grand vision adds up to something pretty sophisticated for what Renfro calls his "weird garden on the highway". But it has to start somewhere.
Esther Mobley is the wine critic for The San Francisco Chronicle. Email: [email protected] Twitter: @Esther_mobley